Freeland Church
Freeland Church Midweek message 160621
Freeland Church morning service 130621
Freeland Church Midweek Message 090621
Freeland Church morning service 060621
News
Prayer
Psalm 4:1 Answer me when I call to you, O my righteous God! Give me relief from my distress. Be merciful to me and hear my prayer!
Our Father God, thank you that you are such a Loving Gracious God. Father thank you for the power and privilege of prayer, that allows us to speak to you as we would speak to a faithful friend. But Lord you are more than a friend you are our God and our Redeemer. Lord, we thank you for your Son Jesus; for the difference he has made in our world. Lord as we begin to enjoy less restrictions in our every day lives, help us to observe the advice we have been given in respect of the virus. Father we thank you for all the folk who have worked so hard to ensure our safety from the virus, for scientists, doctor, nurses, health support staff. We thank you for the production and distribution of the various vaccines. Lord, as we approach summer, we pray that it will be a time of refreshing and healing for all those whose lives have been adversely affected by the various lockdowns. Finally, Father we pray for governments and civic leaders that they will be endowed with your wisdom in their decision making and planning for recovery as we seek to move forward to hopefully a brighter future. In Jesus name we ask it. Amen (see more prayers under worship section) If you would like a prayer said for you or would like private prayer time with one of our prayer team please leave your details on our contact page.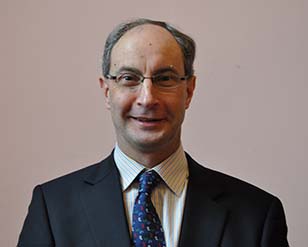 On the 6th of June we begin a series in the Old Testament prophet Joel. We know very little about him. There are 12 other Joels mentioned in the Old Testament but the prophet isn't one of them. We are not even sure if he lived in the 9th century BC or the 5th century BC; although we will assume the earlier date. However he is quoted on the Day of Pentecost when the Holy Spirit came upon the church. At last weeks General Assembly of the Church of Scotland his most famous words were often quoted; " I will pour out my Spirit on all people. Your sons and daughters will prophesy , your old men will dream dreams, your young men will see visions."
There was almost a sense of desperation that the church needed that touch of God; yet voted through lots of things which may be counter to his will!!!
However the words of Joel come out of a very particular context. A plague of locusts has descended on Israel and this has left famine and despair in its wake.
As we look at Joel we will be able to link it into our pandemic context and hopefully come to a point where we want to see God send his Spirit upon us in power. Kenneth
(For more of Kenneth's blogs check out Minister's Blog on this website)
The Alpha Course if interested in joining please leave your details on the Contact Page of the website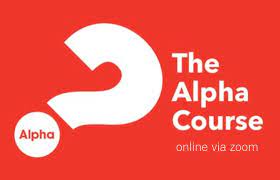 If you've got questions, you're not alone. Alpha is a space where you get together with others, online, to watch a series of short videos covering some of the big questions around the Christian faith such as Who is Jesus?, How and why do people pray? and What's the meaning of life? – and then have a chat about it.
You're invited to come along for the first session and see what you think. What have you got to lose?
Simply inviting someone to Alpha could transform their life forever. Let's make a difference.
When: Tuesday nights at 7pm
A little insight into alpha watch these short videos https://player.vimeo.com/video/417956226 https://run.alpha.org.uk/wp-content/uploads/sites/6/2020/10/What-is-Alpha-Online-Full-Size-.mp4 If you are interested in joining the Alpha course please leave your details on this website contact page and we will be in touch.
Sunday Service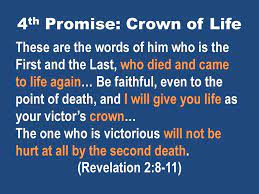 Family Service Sunday 20th June at 10.30am - Bible reading - Joel 2 : 18 - 32 : Dreams and visions abound! Live streamed onhttps://www.youtube.com/channel/UCrQqUYcq0Tr7xHAN3JpTlCg - This service is open for people to attend. Covid restrictions mean limited places if you would like to attend please leave your details on the contact page of this website. Good news !!!!!!! the congregation has increased to 40 due to the Balcony being available.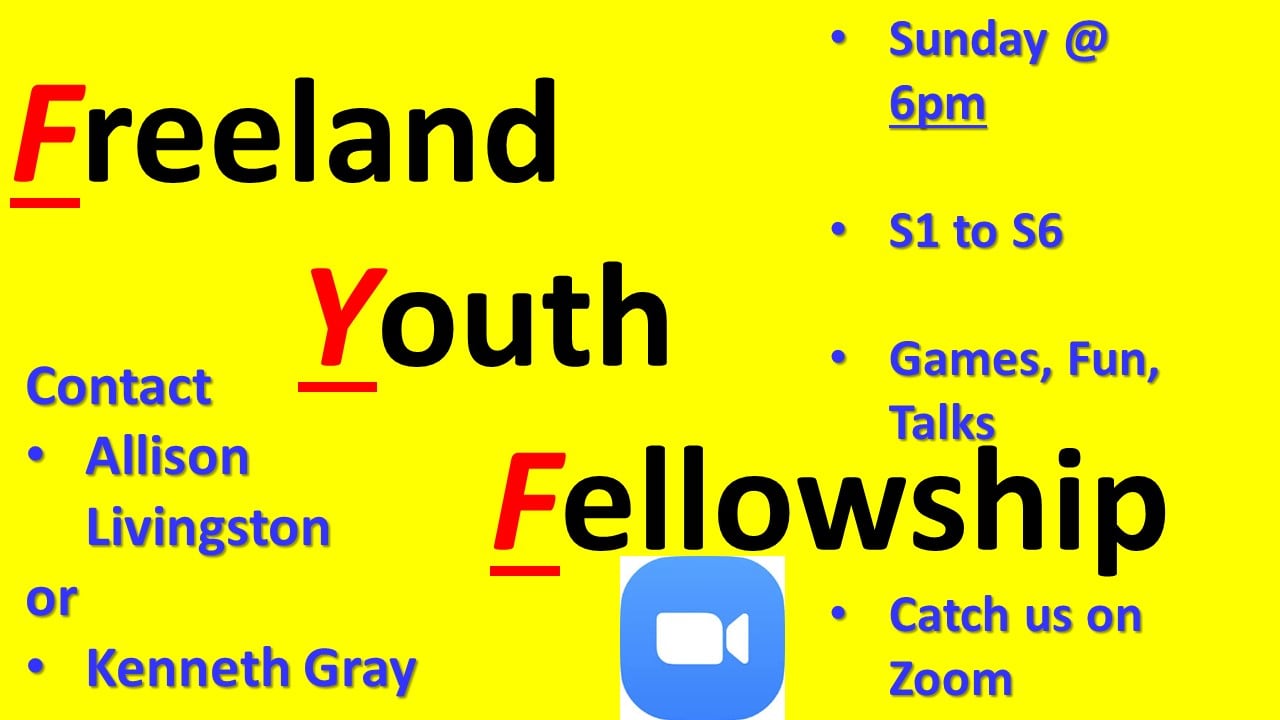 Every Sunday night at 6pm : Secondary School pupils S1 to S6 are you looking for something fun to do during lockdown come and join Freeland Youth Fellowship by Zoom if interested in joining please leave you contact details here on the contact page and we will be in touch.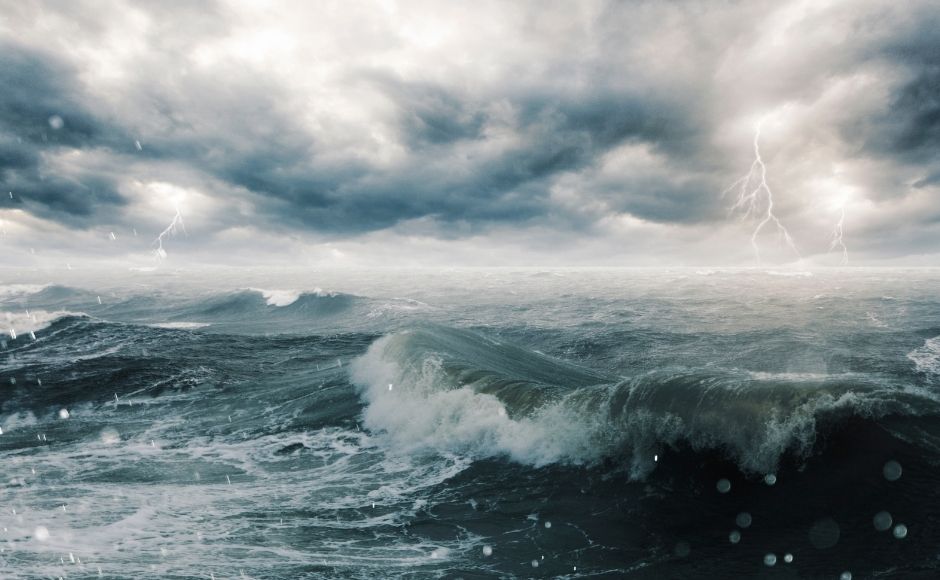 This Sunday (20th June), Christians across the country – and further afield – will join together in prayer and reflection at 7pm in response to the pandemic. As with previous weeks during lockdown, 14 Christian churches and organisations across the country, including the Church of Scotland, have co-signed the letter calling for prayer. Scottish Christians have been continuing to answer the call to pray at the same time each week, and Rt Rev Dr Martin Fair, Moderator of the General Assembly of the Church of Scotland, has been taking part alongside them.
"Too often, different parts of the Christian Church have allowed themselves to become distant from one another. They've looked at certain doctrinal or liturgical matters in different ways and have allowed those differences to become divisive," Dr Fair said. "But we can, and should, all pray together. And when we do, we find that some of these differences that seemed important begin to diminish in significance. "Through the pandemic we have prayed each Sunday evening at 7pm and we've done it together. We've been united in praying for the country and in praying for the life and mission of the whole Church. "Jesus' final prayer when with his disciples was, 'My prayer for all those who believe in me is that they shall be one.' "We've demonstrated that by our shared prayer. Let it to be so." link for prayer https://www.churchofscotland.org.uk/news-and-events/news/2021/articles/kirk-joins-in-prayer-with-christian-partners
Midweek Service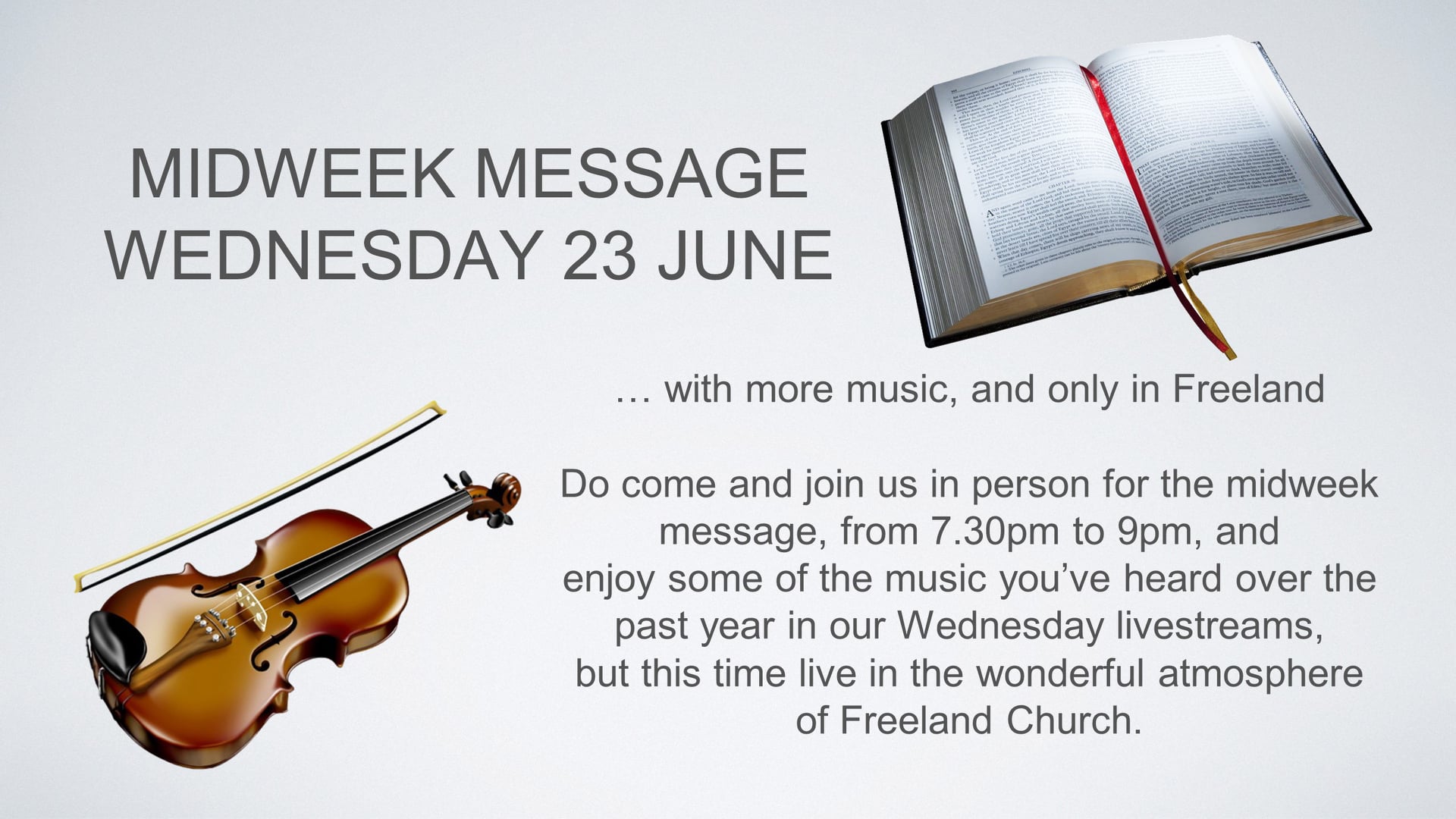 Special Midweek Message - Wednesday 23rd June 7.30pm - 9.00pm - Come in person to hear a live performance of amazing music with biblical message and prayer. This is also being live streamed on https://www.youtube.com/channel/UCrQqUYcq0Tr7xHAN3JpTlCg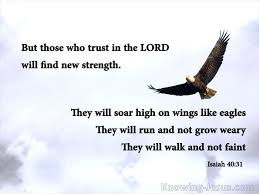 Safeguarding at Freeland
At Freeland Church we are committed to the safeguarding of children, young people and vulnerable adults.
We recognise that safeguarding is everyone's responsibility and we are committed to implementing all safeguarding policies and practice guidance issued by The Church of Scotland. For more information see Safeguarding section in Groups on this website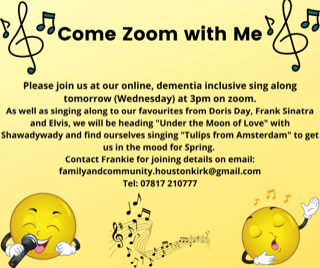 Come zoom with me is a weekly singing get together open to anybody. It's run by Frankie who is family and community worker at Houston Church. She gets people joining in from all over the area. Different music each week and requests taken. Contact Fiona Holbrook or Frankie on the mobile number on the flier.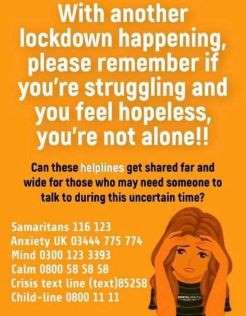 Here is a list of important telephone numbers. If anyone would like a prayer said for them or a private prayer time with our minister or prayer team please leave your details on our website contact page. If you are isolating and like help with medicine delivery or if you need help with someone to do your food shopping and drop it off please leave your details on the website contact page and we will be in touch.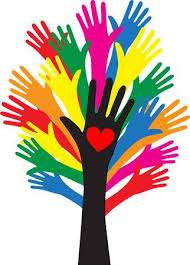 Coronavirus : Pastoral Support
If anyone needs help with shopping, going to appointments or just feeling isolated, please get in touch with Kenneth Gray or leave your contact details on the Contact Form on this website and we will try to arrange the correct support for you.
Psalm 55: 22a Cast your cares on the Lord and he will sustain you.



Prayer : Lord it's me again, Once more, I hand my cares and fears over to you. Help me! I am in a dangerous situation. I cannot manage this problem on my own. Amen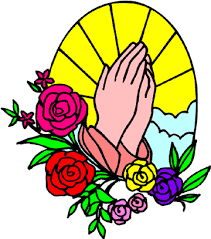 All over the world people are worried about the Coronavirus outbreak, the loss of employment, loss of income, health, loss of loved ones we have attached a call for prayer for you and hopefully this might help in some small way. Press here -
Call for Prayer
If you would like our church prayer team to pray for you, please fill in the contact form on this website, your details are kept confidential.
Trust in the Lord with all your heart and lean not on your own understanding; in all your ways submit to him and he will make your paths straight Proverbs 3 : 5-6
Looking for something to do in lockdown check out Freeland Kids' Zone 1st edition (have fun) : Press here : Freeland Kids Zone
Here the latest Freeland Kids' Zone 2nd edition - Have fun : Press here :
The Sunday school children had been learning this song in preparation for their celebration service and it's very relevant for the current situation. We would love to see any videos you take of you/your family singing along and doing the actions.